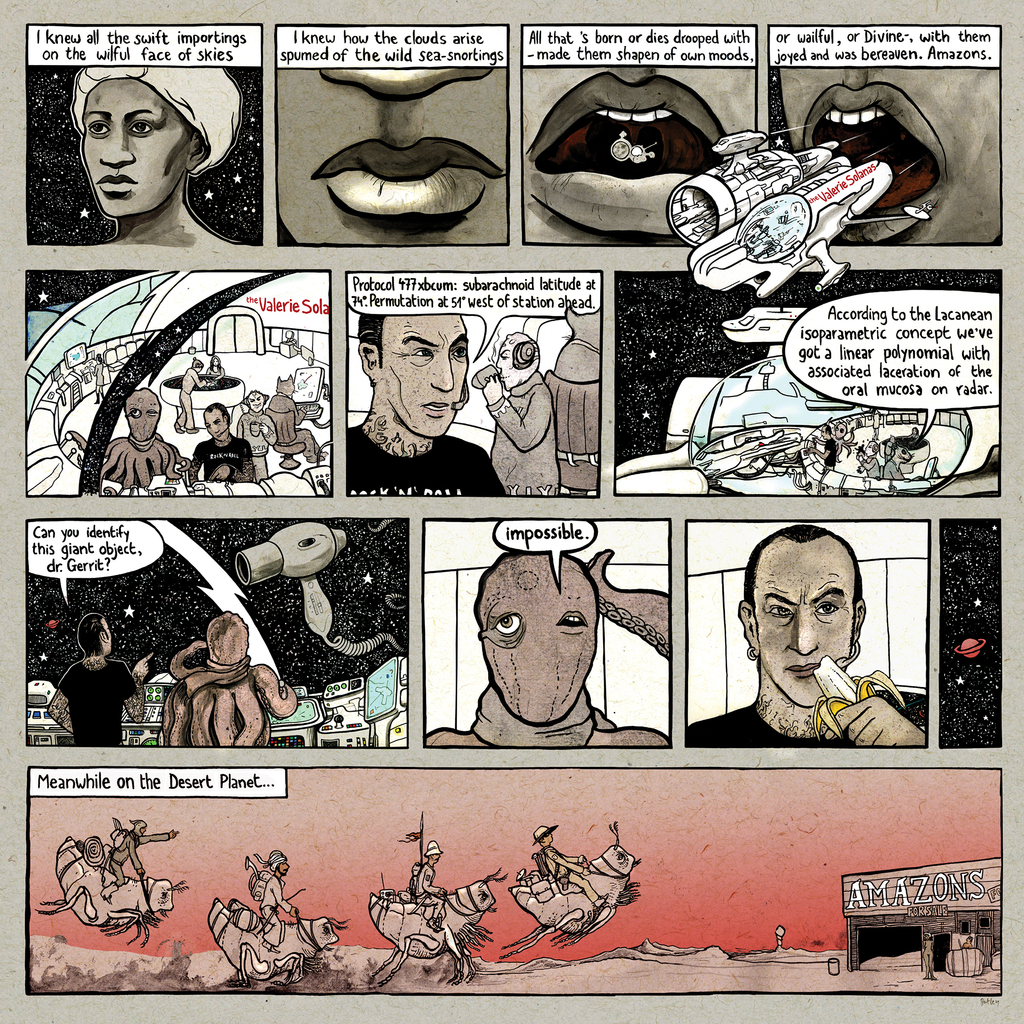 The Valerie Solanas (Michaël Brijs, Tom Tiest, Diederik Van Remoortere, Filip Vandebril) are equivalent to dandyish big city weltschmertz, beat poetry, ingenious melody and haunting riffs. They're influenced by a.o. The Doors, Morphine, Captain Beefheart, Jethro Tull and Nick Cave.
\"Amazons\", their second full album, is an adventurous mixture of melancholic ballads, satirical punk and surreal cinematic experiments, with amazing guest performances by Lien De Greef and Fien Maris. For this album The Valerie Solanas signed with music label GReen l.f.ant (Triggerfinger, Mint, Birdpen,...). As on our E.P. Strange Goings On, the artwork is by artist Bert Lezy.
Press Quotes:
…echt kicken want we jagen dit ding door onze studioboxen. geile productie, venijnige teksten soms croonend gezongen edoch meestal met een hoog fuck if i care-gehalte, smerige uithalen van gitaar en dwarsfluit (yep, medebaard doet dat instrument spugen), een ritmesectie die bijwijlen postpunk aandoet... en ja: joepie: ze treden volgende week de 17de op tijdens Art's Birthday in het M HKA. bands in antwerp: still going strong.
Jeroen Olyslaegers
Modern Antwerps collectief dat met jazz, blues, groove en avant-garde een ouderwetse sound creëert. Na een licht rockende start en een paar jazzy uitspattingen, neigt deze ode aan de Beat Generation later wat meer naar The Doors, Morphine en Captain Beefheart op een zondagmiddag…
Laat David Lynch het niet horen, hij verzint er zo een film onder.
OOR Willem Jongeneelen
Als hij z'n fluit bovenhaalt, komen als vanzelf vroege Golden Earring en Ian Anderson het geïntoxiceerde feestje vervoegen. Massive Attack is geboekt voor de afterparty. … Een unieke band met ijzersterke plaat die wemelt van de creatieve eclectische uitspattingen, literaire verwijzingen en schitterend Bert Lezy-artwork. Heerlijk snoepgoed.
RIFRAF
**** Lijzige tempo's, onheilspellende arrangementen, …vol grootstadblues die zich ergens tussen Nick Cave, Morphine en een vuil cafeetje laat situeren.
P-MAGAZINE
**** ...un groupe flamand qui a déjà quelques années d'expérience derrière lui et qui, il faut le dire, a été particulièrement gâté par les fées en ce qui concerne le talent.
Music Belgium